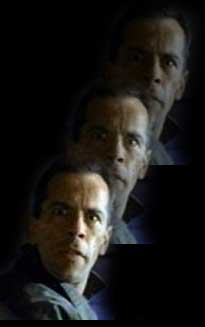 Name:Luis Cardinale
Occupation: Mercenary
Episodes:
The Blessing Way * Paperclip * Piper Maru * Apocrypha

Bio: Luis Cardinale is a Nicaraguan mercenary, a free agent hired by the Cigarette Smoking Man. He is not connected to the Consortium. Following orders from CSM he kills the fourth lone gunman, hacker Kenneth "Thinker" Soona and attempts to kill Scully (with Krycek), instead killing her sister Melissa who was visiting her apartment. Cardinale is also the one who puts a bomb in Krycek's car and who shoots Skinner when he reopens the case looking into Melissa Scully's murder. When Skinner survived this attempt Luis tried again only to be caught by Scully to whom he reveals that Krycek too was involved in her sister's death. He is promptly killed in his jail cell on orders from CSM and it is made to look like a suicide.